exhibitions & events 2016
---
Trigger Words
Glasgow Print Studio First Floor Gallery
Exhibition Runs: 24th September - 13th November
Preview: 23rd September (Trongate 103 First Thursday)
trigger word - a word that initiates a process or course of action
All my friends from those days - James Kelman, Tom Leonard, Alasdair Gray and Alan Spence principally - have been enjoying being in contact again around memories of an enterprise that was very important to us all at the time. Liz Lochhead
The catalyst for this exhibition is the Print Studio Press that operated out of Glasgow Print Studio in the late 1970s.
The Print Studio Press was a writers' co-operative formed at Glasgow Print Studio in late 1977 by a group of six members: Liz Lochhead, Tom Leonard, Tom Buchan, Jim Kelman, Alasdair Gray and James Taylor. The Print Studio Press included a number of emerging names, publishing pamphlets in limited editions of 600. These included short fiction by James Kelman, poetry from Liz Lochead and plays by Tom Leonard. Alan Spence's Glasgow Zen and Alasdair Gray's The Comedy of The White Dog were also first published at GPS.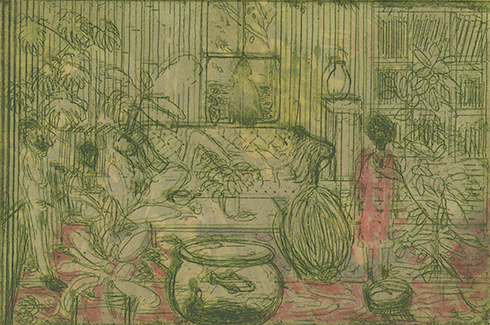 Trigger Words features a group of artists each of whom have created work that is inspired by or somehow relates to a piece of Scottish literature of their choosing.
Exhibiting Artists: John Byrne, Andrew Cranston, Michael Fullerton, Alasdair Gray, Liz Lochhead, Tessa Lynch, Rachel McLean, Bruce McLean, Edwin Morgan, Murray Robertson, Ross Sinclair and Adrian Wiszniewski.
There's something fascinating about the interplay between the word and the image, the writer and the artist, not least if the two are one and the same person. This latest exhibition from Glasgow Print Studio seeks to chart a loose course through the close inspirations between art (more specifically print) and literature.
Glasgow Herald, 24th September 2016
Image: Bruce McLean, 'A Scone in a White Interior' , screenprint. John Byrne, 'Tutti Frutti', hand coloured screenprint. Andrew Cranston, 'This country is at war with Germany', etching on book page.
---