exhibitions & events 2016
---
June Carey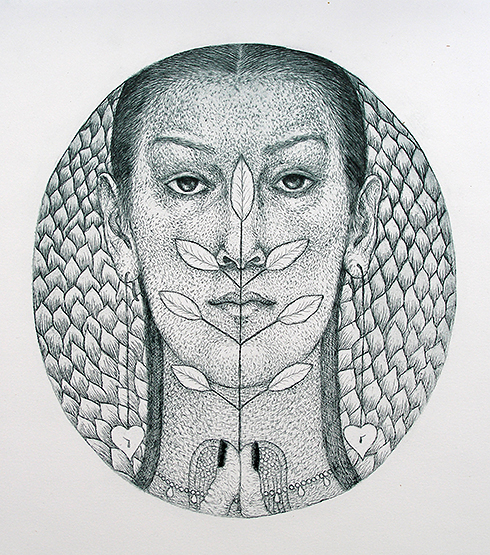 Glasgow Print Studio Ground Floor Gallery
Exhibition Runs: 6th - 29th May
Preview: 5th May (Trongate 103 First Thursday)
Embrace

June Carey presents a new series of etchings exploring the theme of love.
On a recent visit to Cadiz, I discovered 'square' shaped trees which fascinated me. Since then I seem to have introduced 'leaves' into whatever it is I am working on. It was pointed out to me that the shape I was making with leaves was similar to the 'wings' I often attach to my figures in a religious way. I hadn't noticed this.
The male/female beings, present in this series of etchings are unable to 'speak'. Carey conveys their thoughts and feelings using a symbolic language, which is made up of written words (often in Latin) and images on the body.
Whilst trying to explain to the viewer what the picture is about, Carey also conceals part of the message. For whatever reason, it is important to the artist that something is still hidden, left unsaid.
Image: June Carey, 'This Means I Love You', etching, 35 x 30 cm. 
---