exhibitions & events 2012
---
June Carey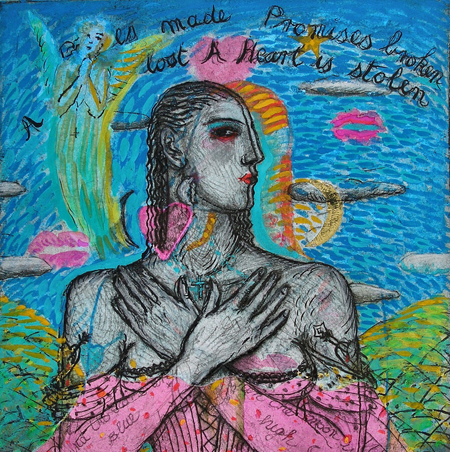 Glasgow Print Studio, Ground Floor Gallery
Exhibition Runs: 6th April - 29th April 2012
Preview: Thursday 5th April, 6pm - 8pm 2012
This new body of work deals with an on-going subject of Carey's; love and its many forms.

Driven by a passion for drawing and mark making, Carey creates her work using pencil, pastel, brush or an etching tool. Discovering etching brought about a turning-point in her work and career. The process of etching set Carey's imagination free and allows her subconscious mind to dictate the marks she makes.

Widely travelled, Carey is greatly influenced by the many diverse cultures that she has encountered, these experiences not only feeding her imagination but becoming vital to the development of her work.
Image: June Carey, "Cross My Heart", etching with collage and watercolour, 16.5 x 18 cm.
---