exhibitions & events 2013
---
Living Proof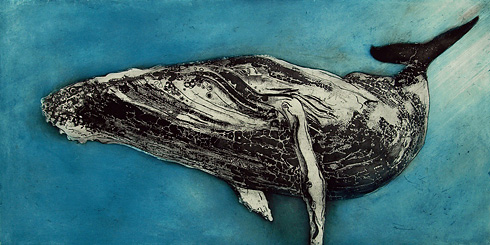 Glasgow Print Studio, First Floor Gallery
Exhibition Runs: 6th December 2013 - 2nd February 2014
Preview: Thursday 5th December 2013 (Trongate 103 First Thursday)
'Living Proof' refers to the research that Charles Darwin undertook on the HMS Beagle voyage around the Southern Hemisphere (1831-36) to find living examples in addition to fossil evidence that ultimately led to his theory of evolution and the publication of 'On the Origin of Species'.

A fascination with creatures and their portrayal in art is a recurring feature amongst the many artists associated with Glasgow Print Studio. A number of these artists were invited to contribute amongst them, Alasdair Gray, Ashley Cook, Elizabeth Blackadder, Eileen Cooper and John Byrne.

The exhibition although predominantly of printmaking will include paintings as well as sculptural work by Kenny Hunter.
Image: Marion MacPhee, 'Humpback Whale III', etching, image size 99 x 50cm, paper size 107 x 59 cm.
---